20 October 2016: Lunch debate "Clinton or Trump - how will Americans decide and what could the result mean for transatlantic relations?"
At our latest event with Pauline Manos, Chairwoman of the Democrats Abroad Belgium, our members gained insights into both the domestic political situation in the United States as well as the work of the Democrats abroad, who are promoting the positions of the Democratic Party and have been actively campaigning to get out the vote in the past months.
Pauline Manos set the scene by explaining how the lack of diversity of thinking and Tea Party becoming mainstream, allowed for the creation of a reality in which Trump outsmarted the Republican Party. Misogyny and chauvinism in American society seems to be an underlying, perhaps even subconscious factor, why even certain Democrats oppose Hillary Clinton. "Why, after all, should this woman who has shattered so many glass ceilings in her life, be allowed to shatter the ultimate one?," a DA member added.
This "post-truth" anti-establishment fever which characterises this presidential campaign is not an isolated American phenomenon. It eerily mirrors the argumentation and negligent attitude towards facts and truth-telling employed by the leave-campaign before the Brexit referendum. A rhetoric which is echoed by the new right, populist parties across Europe. Just like the morning after the Brexit referendum left us in utter shock and a sense of "now everything is possible", the outcome of this presidential election will be paradigm-shifting, regardless the outcome. Either the first female president will be inaugurated or everything we've held true about the transatlantic relationship may be called into question.
A sobering discussion on an emotional and unsettling campaign, according to moderator Susan Schneider, which makes one thing very clear: all of us who are politically active need to think very carefully about how we take part in any political discussion, how our rhetoric shapes the political culture and ultimately the democratic system in which we act.
Democrats Abroad and the Auslandsgruppe Europa der FDP would like to shout out to U.S. citizens living abroad: It is not too late to register to vote! Go to VoteFromAbroad.org to request your absentee ballot today!
Moderation and reporting by AGE Board Member Susan Schneider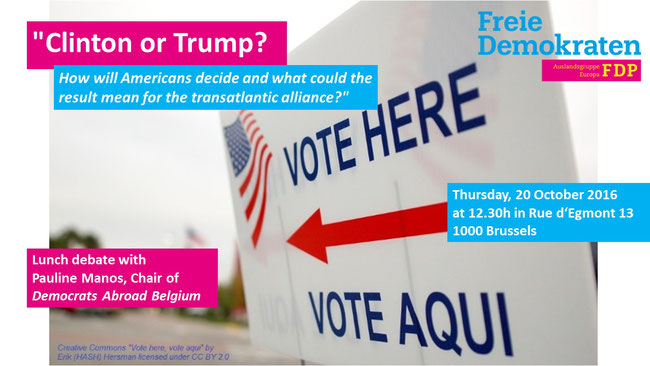 Photo credits: "Creative Commons Vote here, vote aqui" by Erik HASH Hersman is licensed under CC BY 2.0
On 8 November 2016, U.S. citizens will get to vote for a new President. The two main candidates have both created high emotions over the last few months: the Republican candidate Donald Trump over his confrontational behaviour, unreleased tax forms, over controversial comments made about women, minorities and even military families as well as his disregard for central tenets and institutions of the Western order. The Democratic candidate Hillary Clinton on the other hand has experienced backlash over her use of a private email server during her time as Secretary of State, her handling of the Benghazi incident as well as her long-standing political career in Washington which is not counted in her favour by most people. Many Europeans have been watching these months of primaries with a certain incredulousness, trying to understand how the political process in the United States has become so fragmented and often uncivil.
Pauline Manos, Chair of Democrats Abroad Belgium will provide us with insights from the perspective of a politically active American living in Europe. After her remarks, there will be the opportunity to ask questions and debate.
Democrats Abroad is the official arm of the Democratic Party of the United States, working as a state-level party for US citizens living abroad; DA Belgium is equivalent to a county chapter".
We are looking forward to your active participation! A light lunch will be provided.
WHEN

Thursday, 20 October 2016, 12:30h-14:00h

LANGUAGE

English

REGISTRATION

http://tinyurl.com/zex53md

until

Monday, 17 October

WHERE

Rue d'Egmont 13, 1000 Brussels, 1st floor (there are only stairs, no lift)