8 December 2015 - Conference on the European Fund for Investment EFSI with EIB President Werner Hoyer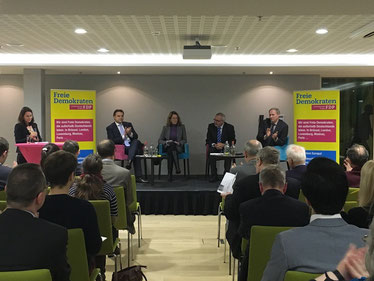 "Investment, Growth and Jobs: Is the Investment Plan for Europe on the right track?" was the question discussed by the high level panel of this event hosted by Auslandsgruppe Europa in cooperation with Open VLD.
Werner Hoyer, President of the European Investment Bank, Philippe De Backer, Member of the European Parliament and Detlef Eckert, Director, DG Employment, Social Affairs & Inclusion, European Commission debated this intensively with an audience of 90 guests moderated by Silke Wettach, EU correspondent from the German weekly "WirtschaftsWoche". A welcome introduction was given by Auslandsgruppe's chairwoman Dr. Ellen Madeker. The panel took stock of the Investment Plan for Europe and delved into recent investment trends, the contribution the EFSI is already making and what further measures the EU needs to take to create an investment-friendly environment attracting investors from inside and outside the EU.