19.-21. November 2015: AGE auf dem ALDE Congress in Budapest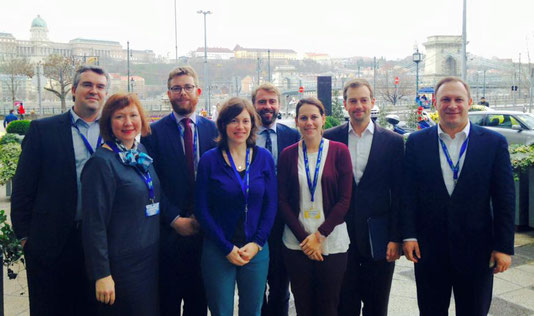 Die Auslandsgruppe Europa war wieder mit einer starken Delegation auf dem ALDE Congress in Budapest vertreten. V.l.n.r.: Marcus Scheuren, Susanne Hartig, Marc Naether, Diana Gierstorfer, Kristof Kleemann, Ellen Madeker, Christian Krökel, Stefan Borst.
From 19 to 21 November the ALDE Party (Alliance of Liberals and Democrats for Europe) hosted its 36th Congress in Budapest, Hungary.
Hans van Baalen MEP (VVD, The Netherlands) was elected as the new President of the ALDE Party succeeding Sir Graham Watson. Hans van Baalen has been a Member of the European Parliament for VVD since 2009. Before that, he was a Member of the House of Representatives in the Netherlands from 1999 to 2002 and from 2003 to 2009. He was also the President of Liberal International between 2009 and 2014.
The newly elected Vice-Presidents are in alphabetical order: Timmy Dooley TD (Fianna Fail, Ireland), Fredrick Federley MEP (Center Party, Sweden), Ilhan Kyuchyuk MEP (MRF, Bulgaria), Markus Löning (FDP, Germany), Marta Pascal MP (CDC, Catalonia, Spain) and Baroness Ros Scott (Liberal Democrats, United Kingdom).
Mireia Canals (CDC, Catalonia, Spain) and Anna Jungner-Nordgren (SFP, Finland) were elected Vice Presidents of the ALDE Gender Equality Network.